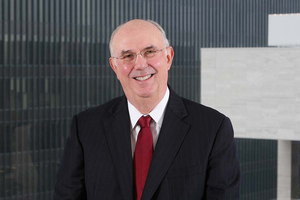 Tom Hensley has a wealth of investment banking experience dating back to 1980 primarily devoted to serving clients in the energy industry. Tom worked as a senior banker at Petrie Parkman for ten years beginning in 1997. Mr. Hensley left Merrill Lynch shortly after it acquired Petrie Parkman to help start Parkman Whaling LLC. Mr. Hensley is heavily involved in the management of Parkman Whaling.
During his career at Petrie Parkman, Tom worked in all areas of the firm's investment banking business. In the late 1990s he led an initiative at Petrie Parkman to create a specialized service to advise both creditors and debtors in bankruptcy as well as out-of-court reorganizations and recapitalizations of energy companies. Tom co-headed this highly successful effort as Petrie Parkman garnered a large share of debtor and creditor assignments in the latest distressed cycle in the industry. In connection with this business, Tom developed relationships with numerous financial interests and creditor constituencies as well as the bankruptcy bar. He has testified in court as an expert witness in a number of these cases. In addition to bankruptcy representations, Mr. Hensley has assisted other clients in restructuring debt and considering recapitalization transactions outside of the bankruptcy process.
Throughout the course of his investment banking career, Mr. Hensley has acquired extensive corporate finance experience in public debt and equity offerings, convertible securities, master limited partnerships, royalty trusts, and partnership consolidations. He is experienced in private offerings as well as financial advisory assignments in mergers & acquisitions, asset divestitures, fairness opinions, and special committee assignments.
Prior to joining Petrie Parkman in 1997, Tom was a Managing Director of Dean Witter Reynolds Inc. and managed that firm's Houston Corporate Finance office. Before joining Dean Witter in 1996, Mr. Hensley was a Managing Director with PaineWebber Inc. and headed that firm's Houston Investment Banking Office until 1995. Prior to joining PaineWebber in 1988, Tom held positions in the Corporate Finance Departments at E. F. Hutton & Company Inc. and Rotan Mosle Inc. Mr. Hensley began his career in the Houston Office of Ernst & Whinney (1976-1980).
Mr. Hensley received his Bachelor of Business Administration (highest honors) from Southern Methodist University in 1976. He is a Chartered Financial Analyst and a Certified Public Accountant.
Tom is a resident of Houston, Texas. He is married and has three children.