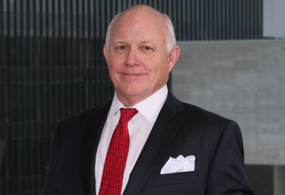 George Morris has been associated with the energy industry and financial services business for over 30 years as an investment banker and Board Member of several public energy companies. In January 2020, he merged Morris Energy Advisors, LLC into Parkman Whaling
During most of his year career on Wall Street, he has specialized in the Midstream and Downstream sectors of the energy industry extending into specialty chemicals and products. He also developed significant sector experience in the oilfield and downstream services & equipment sectors. This specialization has given him an in-depth understanding of the unique economic and competitive dynamics of these elements of the energy value chain.
Before joining Parkman Whaling, George founded Morris Energy Advisors, LLC. Prior to Morris Energy Advisors LLC, he was a senior banker in Merrill Lynch & Co.'s Global Energy & Power Group having rejoined the firm with its acquisition of Petrie Parkman & Co. Prior to joining Petrie Parkman, Mr. Morris was a partner at Simmons & Company International. Mr. Morris began his career at The First Boston Corporation in 1982 as a generalist in the firm's Corporate Finance Department and later a specialist in its highly recognized Merger Group. During his eleven years at First Boston, he helped build the premier Energy Group of its time on Wall Street.
Mr. Morris has led large project teams in the privatizations of Petrogal, Portugal's national oil company, and Petro-Canada, Canada's national oil company as well as high profile takeover defense assignments for Phillips Petroleum, Texas Eastern, CNG, Transco Energy, Texaco and several others. Critical to the midstream energy business, he has advised on the formations, restructurings, mergers, acquisitions, and liquidations of numerous Master Limited Partnerships including TEPPCO, Plains All-American, Calumet Specialty Products, Pacific Energy, Pride Companies, Hiland and Huntway Refining. He has also managed numerous financial and strategic advisory assignments and capital financings for clients such as Conoco, Exxon, Phillips Petroleum, Dow Chemical, Dynegy, Enron, Petro-Canada, Transco Energy, Williams Companies, Consolidated Natural Gas, Pacific Enterprises, Kinder Morgan, Texaco, Shell, Mobil, Tenneco, Valero, Tesoro, Cameron, CSX, Entergy, Holly, Panhandle Eastern, Texas Eastern, Petrolane, SEMPRA, SOHIO, Sun, BFI, SCI, Southdown, NATCO, Copano, Tejas Gas, TransMontaigne, and many other large and small public and private companies and partnerships.
Mr. Morris has also previously served on the Boards of several publicly traded companies and partnerships, typically as a Financial Expert under SEC and NYSE Rules, including Arch Coal Inc., Energy XXI Gulf Coast, Inc., and Calumet Specialty Products Partners, LP. He is also a member of the National Association of Corporate Directors (NACD). Mr. Morris graduated from the University of Texas where he received a BBA in 1977 and a MBA in 1979. He also earned a Doctorate in Jurisprudence from Southern Methodist University in 1982 and is a member or past member of the State Bar of Texas, the National Petrochemical & Refiners Association and the Gas Processors Association