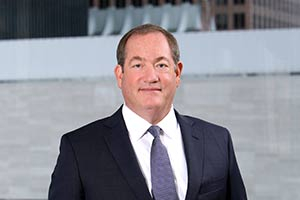 Darin Ackerman has over 20 years of investment banking experience, with the vast majority spent in the energy industry. He began his investment banking career in Dallas with Smith Barney as a southwest U.S. generalist, but soon migrated to the oil and gas sector and since then has been dedicated to the energy industry. His transaction experience spans exploration & production, oilfield service and equipment, midstream and refining & marketing. He also has significant experience with energy related technologies and alternative energy.
Darin has been involved in over $8.7 billion in completed financing and strategic advisory transactions. His financing experience comprises public and private capital raises at all levels of the capital structure. He has significant energy leveraged finance experience working with public and private issuers in the placement of securities ranging from traditional high yield debt to private, highly structured debt and equity-linked financings with a broad range of institutional investors. His equity capital markets experience includes IPOs and follow-on offerings for corporate, MLP and trust issuers, as well as private equity placements. Strategic advisory assignments have included mergers, exclusive sales, buyside, exchange offer and fairness opinion engagements for public and private company clients. A common theme in his approach to advising clients is his emphasis on developing a clear understanding of clients' needs and aspirations and addressing them with thoughtful, creative and targeted ideas.
His efforts in recent years have been primarily directed at the E&P segment, however over the course of his career Darin has done a significant amount of work in the oilfield service and equipment sector, such as in the natural gas compression business where he was amongst the most active bankers as compression developed into a stand-alone industry, including the private equity backed acquisition and financing transactions that formed Universal Compression.
Prior to joining Parkman Whaling, Darin was a managing director and co-head of energy investment banking at Imperial Capital. He was previously a senior energy banker with Wunderlich Securities, CRT Capital LLC, and BT Alex. Brown.
He received an MBA and BBA in finance from the University of Texas at Austin.
Darin resides in Houston with his wife and two children. He enjoys coaching his kids' little league and football teams.