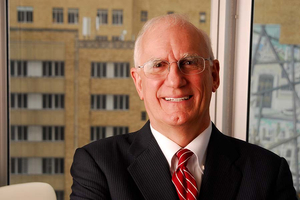 William P. Nicoletti has a long history in investment banking, corporate management and directorship as well as in litigation support and management consulting. He is experienced in complex corporate and partnership governance issues. He has served in several corporate leadership positions including as: lead director, non-executive Chairman of the Board, Chairman of Special Committees and as Chairman of several Audit Committees. He has been involved in several corporate and partnership restructurings as both a banker and a board member. He has testified as an expert in connection with matters of corporate and partnership governance, mergers, acquisitions, financings, valuations and due diligence.
Bill has been a Managing Director and Head of Energy Banking for PaineWebber Incorporated, E.F. Hutton & Company Inc., and McDonald Investments, Inc. Prior to joining Parkman Whaling, he was Managing Director of Nicoletti & Company Inc., a firm providing investment banking, expert testimony and financial advisory services to corporate clients involved in a diverse mix of businesses. Until joining Parkman Whaling, his business activities were based in New York.
He was instrumental in the formation of the first publicly traded master limited partnership, Apache Petroleum Company, and is currently a director of Star Gas, a New York Stock Exchange-listed MLP. He has been a director of seven other companies in the energy business and three non-energy companies. In 2004, he agreed to become the Non-Executive Chairman of Star Gas and led the successful out-of-court recapitalization of that company.
At Hutton and PaineWebber his group was responsible for all non-utility energy transactions, which included public and private equity, convertible preferred, convertible debentures, high yield and investment grade debt, mergers, acquisitions, divestitures and fairness opinions. During his career in investment banking Mr. Nicoletti has been involved in over $5.0 billion of financings and $7.5 billion of merger and other transactions.
Bill has been engaged as an expert witness in 20 separate litigations and has provided deposition testimony in 12 such cases. His testimony has involved matters of corporate and partnership governance, mergers, acquisitions, financings, valuations and due diligence.
He is a cum laude graduate of Seton Hall University with a major in mathematics. He received an MBA degree with honors from Columbia University Graduate School of Business which he attended on an academic fellowship. He has been designated as an Audit Committee financial expert. He is a resident of Houston, Texas.